Ceremony at All Milestone Events of Life
The wedding and memorial service mutual aid is a savings program for lifetime milestone events such as Shichigosan,
Coming of Age, Weddings, and Funerals.
By proactively accumulating a small installment, one can alleviate the fees pertaining to such events,
which are essential to the well-being of a family bond,
the essence of Ceremony Mutual Aid.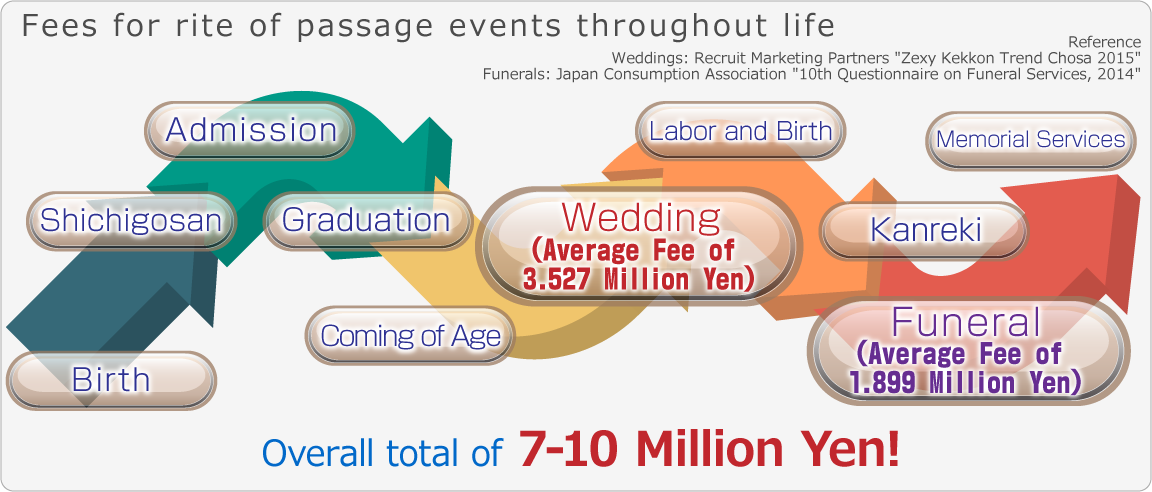 From the above, one can see that weddings and funerals comprise the majority of rite of passage fees.

What can we do to prepare?
As life or accident insurance will cover illness or injury, and financial insurance will cover your child's academic fees,
Mutual Aid works in the same way to assist you with fees pertaining to weddings and funerals.


Course Options
Ceremony Mutual Aid Offers Two Plans: Standard Course and Premium Course.
The plan coverage and fees are fixed, and not subject to inflation change.
As it is not subject to inflation change,the returns can be bigger than monetary savings in low-interest times.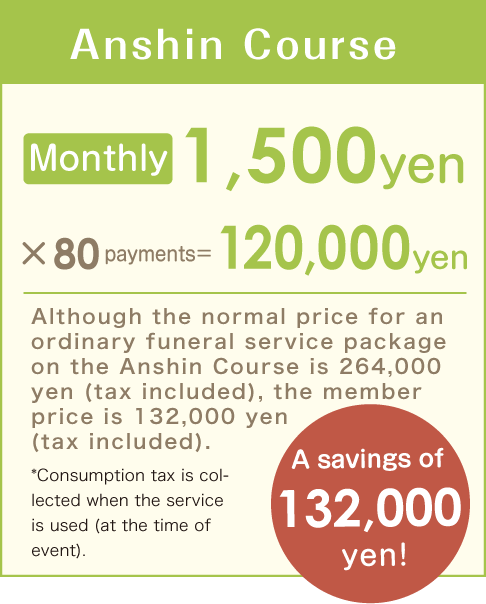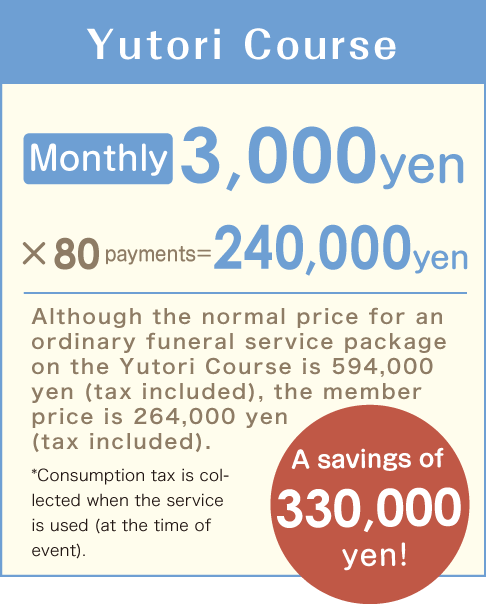 ― Funeral Fees for Ceremony Mutual Aid Members ―
Fees are subject to both a fixed fee and variable fee.
Total fee will differentiate on the number of guests, please plan ahead of time.
■ Fixed Fees
A : Funeral Fee
Basic fees for a funeral
B : Upfronted Fees
Fees pertaining to cremation, crematorium waiting room fees, crematorium transportation fees
■ Variable Fees
C : Food and Drinks, Gifts for Attendees
Food and drinks, gifts for attending guests.
■ Miscellaneous Fees
D : Remuneration for Religionist
Funeral minister fees.